November 22, 2013
SME owners dip into their own pockets for funding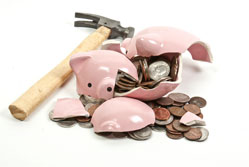 A quarter of small business directors have used their own personal finances such as mortgages, credit cards and savings to support their business, according to research by Experian.
And almost a third of these have put their own homes at risk by using personal mortgages to fund their business, says Experian. In addition, 47% of SME directors said that they rely on high-interest personal credit cards for everyday business affairs.
Personal bank accounts are also frequently used – with 65% saying that they have drawn on funds directly from their current account and nearly half (48%) saying that they had dipped into their personal savings.
The study asked SME directors what they were using the money for and found that:
48% were using it to set up their business;
37% were investing in new equipment or premises;
30% were paying suppliers;
26% were clearing debts.
Ade Potts, managing director of Experian's SME business, UK&I, said: "Although it might initially seem like using personal funds for business purposes is the easiest route, it can affect personal credit records and leave them vulnerable, particularly when you consider people are using their homes as security. Directors could avoid these risks by exploring and researching the various forms of finance and funding available and tailored for businesses."
This week, the Federation of Small Businesses (FSB) and the UK Crowdfunding Association (UKCFA) have come together to give SMEs and start-ups advice on how to access finance through crowdfunding. Recent FSB research shows that only 37% of its members are aware of alternative finance providers, such as peer-to-peer lenders and crowdfunders.
Julia Groves, chair of UKCFA, said: "Whether you are a very new business raising seed equity to get started, or a more established businesses seeking a loan to grow or diversify, there are opportunities to bypass the banks and raise this money directly from your customers, neighbours and the general public. So you get not just financial backing but the backing of the crowd."
Related resources: